RWJUH Highlighted in the NJBIZ Diversity Issue
NJBIZ's Diversity Issue features stories regarding diversity and inclusion in our society. These issues not only impact the state of New Jersey, but have an impact nation-wide in business. For this issue, the R&J healthcare team worked with NJBIZ healthcare reporter Anjalee Khemlani to secure coverage for client Robert Wood Johnson University Hospital in two different articles.
In the first article, Jackie Baras, quality nurse manager at Robert Wood Johnson University Hospital Somerset, shared her story of transitioning and the challenges she overcame in the workplace. Now, Jackie Baras is in charge of a new clinic for transgender support and care at RWJUH Somerset to be opened by the end of the year. This will help provide basic support and information a person going through and following a transition is often looking for. "Baras said being a member of the LGBTQ community and helping to increase the policies, knowledge and efforts to care for the transgender community is the best thing she can do."
Read the full article, "From Joel to Jackie: A Tale of transitioning" in NJBIZ here. 
In another article, Jackie was interviewed on being transgender in the workplace. In this article, we find insights on different issues including the recent focus on transgender issues in the media, to which Jackie says, "To a degree, we've been overlooked, not seen, not recognized, and recently we've been in the news more and identified more. We've come into the limelight because of discrimination. A certain group of people have decided that it's necessary to create a problem where a problem never existed. Why we are getting attention is a shame. The fact that we are getting attention in the long run will be a good thing."
Read the full article, "What it's like to be transgender in today's workplace" in NJBIZ here.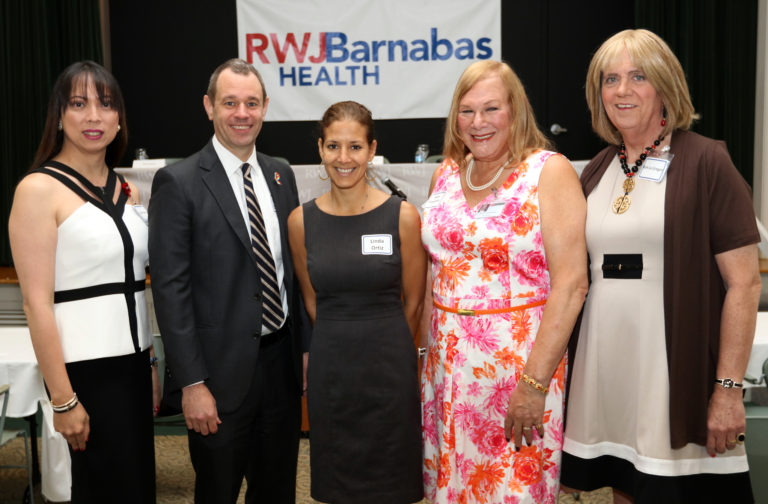 From left to right: Jackie Baras, RN, RWJ Somerset, Michael Campion, US Dept of Justice, Linda Ortiz, US Dept of Justice, Nicole Brownstein, Pride Center of NJ, Kim LaGregor, Pride Center of NJ