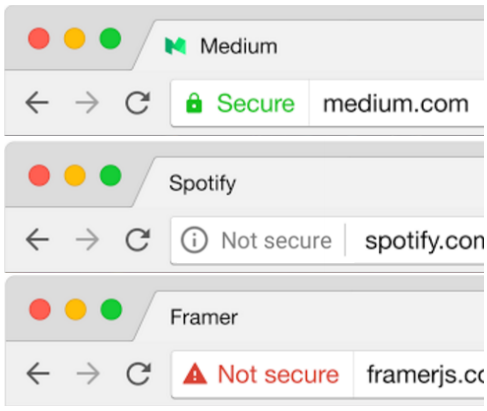 Have you noticed that when you browse some of your favorite websites, there's a fancy green padlock to the left of the web address, and sometimes there isn't one? Or worse, there's an alert screen saying the site's security can't be trusted or your connection isn't protected? This is all related to how secure the website you're visiting is – or in some cases, is not. It used to be that only websites that handled transactional data, like eCommerce, needed an SSL or, a Secure Sockets Layer which is a certificate that lives on your web server ensuring that the site is secure and can be trusted. In recent years, as search optimization has expanded to cover more signals from a website, and search engines want to deliver trusted content, this is another way that they're ensuring the content owner can be trusted. For a few years now, we've recommended that all websites have an SSL in order to avoid these security threat concerns.
Having an SSL doesn't mean that your site is hack proof or completely invulnerable, however it is a great start. In addition to having the SSL on your site, it makes sense to keep your CMS (Content Management System) and related plugins up to date. CMS's will often push updates that cover functionality as well as security patches. On websites that we manage for clients, we also set up additional back-end security software to protect the site against hack and login attempts. We track passwords for users to ensure that they are strong and secure as well.
Google's web browser, Chrome, is striving for 100% secure web traffic, but that also means that any site that pulls in third party content or data streams also needs to be secure (it's kind of a web, no pun intended). A big reason Chrome's security team is pushing for SSL across the web, not just on eCommerce sites, is to prevent eavesdroppers (beyond the ones you give permission to through the use of cookies).
Keeping a site securely locked down is a sound investment in preventing the need to dig out and fix something that's suddenly gone terribly wrong. Moreover, a simple SSL certificate can be one of the many things you can do to help improve your website ranking on search engine results.
If any of this jargon is too technical, reach out and let us guide you through the process of locking down your number one sales and marketing tool. Additionally, if your website isn't being maintained on a regular basis, you could be leaving yourself open to major vulnerabilities. Much like a car, regular maintenance is imperative in order to avoid massive automotive repairs, or website repairs in this case. Drop me a line and let us know how we can help.